My house is by no means a show piece.... we homeschool.... we LIVE in our house... everyday..... all day.
In other words... we can spend an hour or two a week scrubbing, dusting, vacuuming, mopping... you name it and well.... you honestly would never know it. Really, our house still has that "lived in" look no matter how tidy it is.... I have completely given up on the whole show piece idea..... sort of.....
I seem to gravitate towards nicy nice things to decorate my home.... cheap nicey nice, but nicey nice all the same.
My kitchen counter has been the home to 5 terra cotta pots and one large basket for over 10 years. They are very useful to hold my kitchen utensils and bread. They have served their purpose and I have come to depend on them.
That being said, they have lost their 'pretty' side....take a look.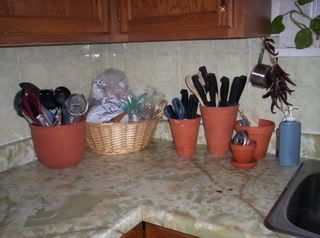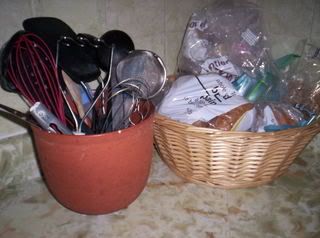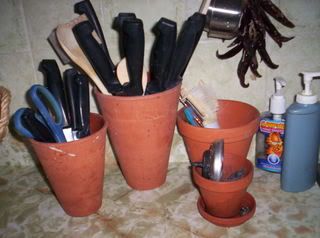 So after 5 years of using un-pretty terra cotta pots and a basket to hold my kitchen stuff I finally broke down and spent $6 to fix it all..... go big spender!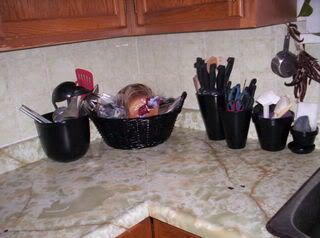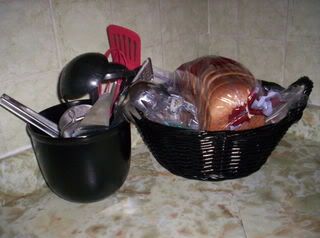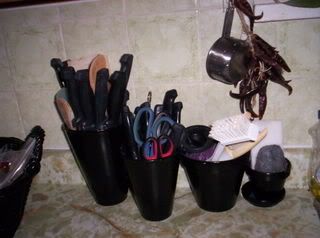 Not too shabby for two cans of shiny black spray paint.
Now... do you think they make a paint that can cover up that hideous green counter top.... it's technically vintage LOL!